In the last few years, Mozambique has faced multiple humanitarian emergencies due to extreme climate events such as cyclical droughts and flooding, as well as two unprecedented cyclones in 2019. Cyclone Idai was classified as the biggest cyclone recorded in the Southern Hemisphere and devastated the central part of the country.
In Mozambique more than 70 per cent of the 30 million population live in rural areas. The country, despite significant progress in reducing mortality rates, has some of the worst health indicators in Africa and is ranked 180 out of 189 countries on the Human Development Index (HDI).
From 2017, in the northern province of Cabo Delgado, military insurgence groups have been actively targeting communities, causing a humanitarian emergency due to massive displacement of the population. According to International Organisation for Migration (IOM), by June 2022 more than 780,000 people are internally displaced.
MENTOR started providing humanitarian assistance after Cyclone Idai severely hit Beira in 2019. Since then, MENTOR has worked together with the Ministry of Health (MoH) on the implementation and technical support of Malaria and WASH (Water, Sanitation and Hygiene) programmes.
Currently, MENTOR operates in 11 districts of Cabo Delgado province providing life-saving interventions for malaria and other vector-borne diseases to the displaced and host population affected by the conflict.
Main activities:
Indoor Residual Spraying (IRS) which has protected more than 1.1 million people since 2019. In late 2022 an IRS campaign was carried out in five districts in Cabo Delgado province reaching 600,000 people.
Supporting and training over 300 community health workers on malaria and vector-borne disease case management, supply chain management and hygiene promotion.
Information, Education and Communication (IEC) campaigns on hygiene promotion, Larval Source Management, waste management, vector control and the safe storage of water.
Water, Sanitation and Hygiene (WASH) activities include installing tippy taps for handwashing, and a school programme in partnership with Save the Children to install and reconstruct boreholes and latrines.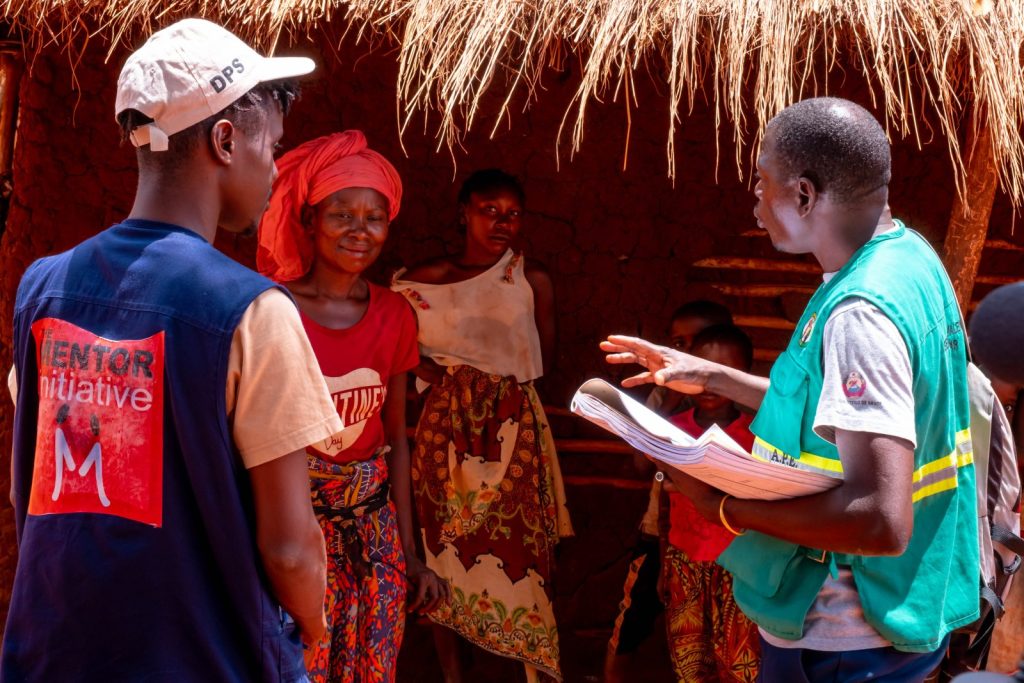 Malaria control
All of Mozambique's population is at risk of malaria. Mozambique accounts for the 4% of global cases and global deaths of malaria (being the fourth country after Nigeria, DRC and Uganda) according to the 2021 WHO World Malaria Report. In 2020, there were an estimated 10 million cases and more than 23,000 deaths due to the disease in the country.
In Cabo Delgado, the prevalence of malaria in children under 5 years old was 57.3% in 2018 – the highest in the country.
With funding from USAID Bureau for Humanitarian Assistance (BHA), MENTOR has been working with the National Malaria Control Programme (PNLM) of the Ministry of Health on the WHO Global Technical Strategy for Malaria 2016-2030.
MENTOR has been supporting the implementation of vector control prevention interventions such as the Internal Residual Spraying (IRS) campaigns. Firstly in Sofala and Manica after Cyclone Idai, and then in Cabo Delgado because of the displacement of the population.
Since 2019, more than 1,1 million people have been protected against malaria due to IRS campaigns. In 2022, the IRS campaign took place in five districts of Cabo Delgado: Metuge, Ancuabe, Chiure, Montepuez and Mueda, focusing on the protection of Internal Displaced People (IDPs) and host communities affected by the conflict.
MENTOR is also now supporting malaria surveillance activities such as bioassays to monitor the effectiveness of the IRS campaign. This activity will be conducted in two districts of Cabo Delgado and will be linked to a plan to strengthen the local capacity of the MoH provincial insectary.
In Cabo Delgado, MENTOR is also supporting the Community Health Workers network, known as Agentes Polivalentes Elementares (APEs). A total of 305 APEs from 11 districts of this northern province have been trained on malaria and vector-borne disease case management, supply chains, and hygiene promotion. APEs are the first line against malaria in hard-to-reach communities.
From July 2021 until March 2022, APEs visited more than 250,000 patients and diagnosed more than 110,000 malaria cases.
Water, sanitation and hygiene (WASH)
MENTOR has implemented several hygiene promotion projects in areas affected by humanitarian emergencies under the USAID-BHA programme. These activities include house-to-house visits, community gatherings, construction of handwashing stations (tippy taps) and promoting the engagement of Internally Displaced Persons and host communities to prevent diarrhoeal and other infectious diseases.
School WASH programmes were implemented in 2021 in partnership with Save the Children. MENTOR provided WASH kits in 18 schools as well as hygiene promotions sessions reaching more than 35,000 people.
In 2022, MENTOR joined a consortium led by Save the Children with European Civil Protection and Humanitarian Aid Operations (ECHO) funding. This two-year programme will focus on providing access and safe learning spaces to children affected by the conflict in Cabo Delgado. MENTOR is implementing WASH and health activities such as the rehabilitation and construction of water points, latrines and handwashing stations in schools.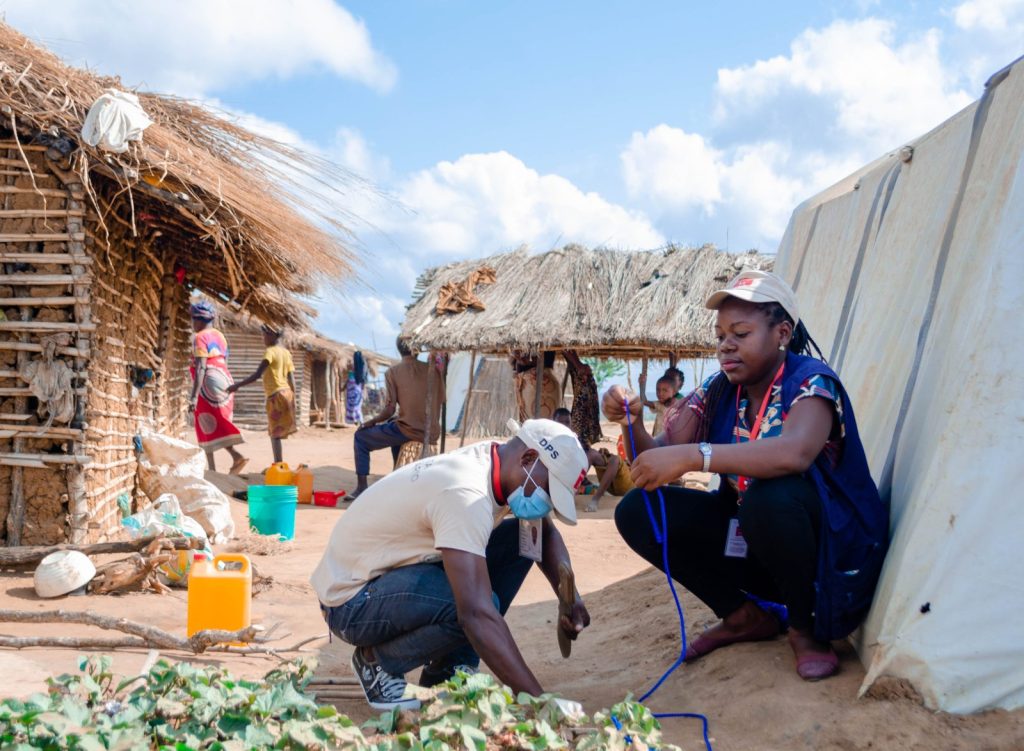 Looking ahead
MENTOR is committed to continue supporting the MoH to implement life-saving activities that focus on strengthening the capacity of the local health systems. MENTOR will keep providing support in:
Malaria
Vector control activities are a priority in MENTOR's portfolio especially in the areas affected by humanitarian emergencies as well as other areas with high endemicity and needs.
Entomological surveillance activities are key to ensure evidence-based decisions. MENTOR will keep supporting the local health structures to improve the integration of these activities and to identify new priorities.
Community health workers are vital to tackle the malaria burden in the most vulnerable populations. MENTOR will continue the support of the training and supervision of these health workers.
Case management of malaria is essential to reduce the burden of the disease. MENTOR is committed to build the capacity of the health system in providing trainings for the health workers and ensure the quality of care through supervision.
WASH
MENTOR will keep working on the provision of WASH structures in the schools and communities affected by the conflict.
Hygiene promotion is a key activity that MENTOR will continue to support in order to contribute stopping disease transmission.
MENTOR will focus on the integration of action against NTDs into WASH and malaria programmes.