For nearly 20 years, The MENTOR Initiative has been involved in operational research to find innovative solutions to complex problems inherent in disease control in humanitarian crises.
Some solutions we have helped to develop in the past include the use of insecticide-treated plastic sheeting to construct emergency shelters; and the use of new rapid diagnostic testing kits and therapies specifically for remote locations.
Researching new tools and treatments is game changing in the successful delivery of disease control programmes that have high rates of efficacy.
Together with our partners in the public and private sector we are developing tools, products and strategies that ensure our programmes continue to have the most impact.
Current research programmes
'Envelope' spatial repellent
In Syria, we carried out a study to evaluate an innovative long-lasting spatial repellent ('Envelope') and its effectiveness at protecting people from cutaneous leishmaniasis for one month at a time.
This project was conducted in urban settings in the north-west and camp settings in the northeast. The study was made up of:
The intervention (Envelope);
Positive control (Indoor Residual Spray) and;
Negative control (Information, Education and Communication).
In the last three months of the trial, MENTOR also conducted a market research study which aimed to evaluate the prospect of integrating the product into the local market.
'Mesh' emanator spatial repellent
We are running studies on sites in Yemen and Nigeria to measure the effectiveness of the 'Mesh emanator' spatial repellent at repelling multiple disease vectors. This aims to reduce clinical malaria rates in temporary shelters and camp settings, as well as other diseases. This study is taking place in Internally Displaced Persons (IDP) camps in Aden, Yemen and Borno State, Nigeria.
Field evaluation
In a second study in Yemen, we are running a field evaluation of tools for vector-borne disease control in conflict-affected communities. This study is designed to evaluate the effectiveness of a novel spatial repellent – Mesh (manufactured by SC Johnson) and a novel larvicide disc – SumiLarv 2MR (manufactured by Sumitomo) at reducing exposure to the Aedes and Anopheles stephensi mosquitoes.
Outcomes will include:
The entomological impact of the two tools,
Ease and correctness of usage, and
Community and household acceptance.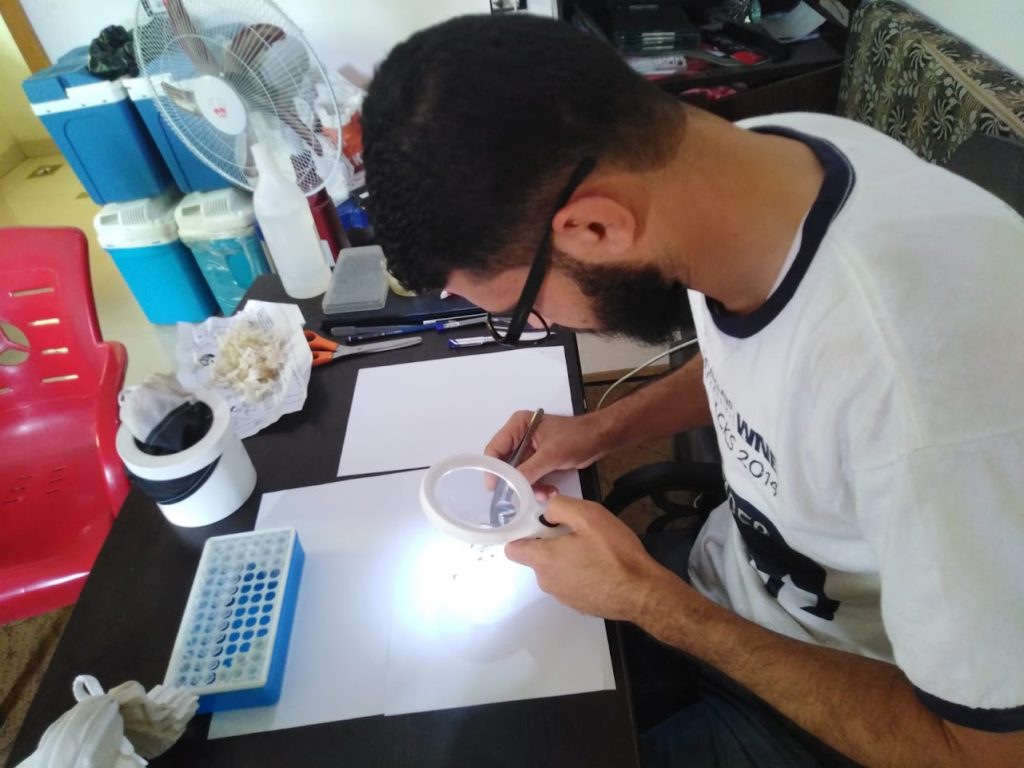 Partnerships
For Syria, we are partnering with SC Johnson, Grand Challenges Canada and Haceteppe University, Turkey. For the studies in Yemen and Nigeria, partners include SC Johnson, Sumitomo, Liverpool School of Tropical Medicine and the Universities of Aden and Maiduguri.
Implications of the research
Spatial repellents to stop vector entry into households and other areas offer a promising new technology for the integrated management of vector-borne diseases. This need is especially great in displaced populations who live in temporary, insecure shelter. By conducting our research in these challenging settings, we aim to determine whether Mesh is an effective tool.